Pictured: $2 million in diamonds stolen from Bronx jewelry store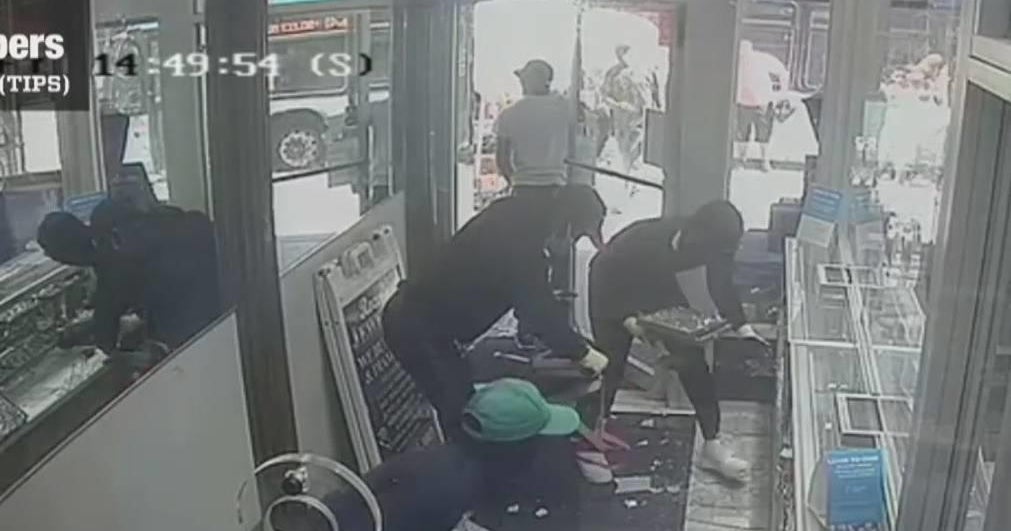 NEW YORK – A brazen robbery at a Bronx jewelry store was caught on Friday afternoon.
Police said the stolen jewelry was worth more than $2 million.
As CBS2's Alecia Reid reports, the theft appeared to have been planned. Witnesses say the thieves got in and out in less than a minute.
The shutters of Rocco's Jewelry on Webster Avenue in Fordham Heights remain closed Saturday, but employees and detectives were inside.
Newly released surveillance footage shows a man in a white t-shirt, black jeans and a black hat making the noise around 2.30pm. He then holds the door open for three other people running down the street. They enter the store and use hammers to smash the windows. They then load the high-end jewelry into bags they brought with them before setting off on foot.
Witnesses told CBS2 the banging was so loud they thought they heard gunshots.
"They came in, boom boom boom, they came in and left," one man said.
"Unfortunate. I'm sorry this happened to them. Unfortunate even though it's probably guaranteed, but these kinds of things happen," another man said.
In addition to the dark clothing, police say the three individuals who stole the merchandise were all wearing dark masks and gloves.
Fortunately, nobody was hurt.
Anyone with information is asked to call the NYPD Crime Stoppers Hotline at 1-800-577-TIPS (8477)or for Spanish, 1-888-57-PISTA (74782)). You can also submit a tip through their website or via DM on Twitter, @NYPDTips. All calls are kept confidential.