Chinese want to import phones and makeup, but fewer watches and glasses, says JD.Com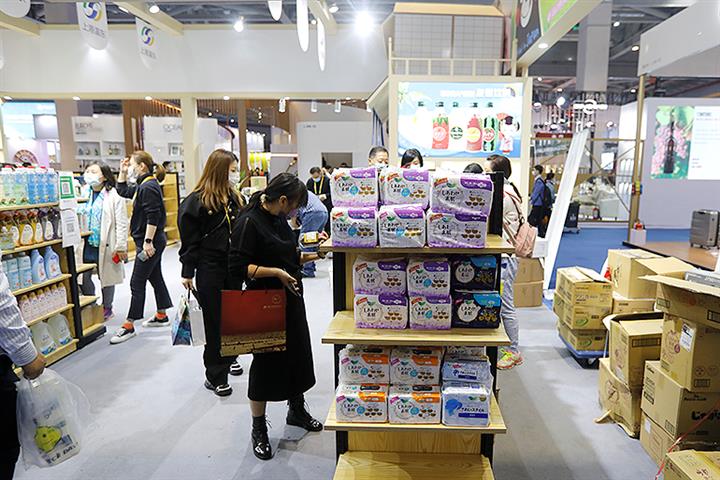 (Yicai Global) Nov 3 — Chinese consumers are eager to buy differentiated and high-end imported products such as handsets and cosmetics, but domestic brands are gaining a foothold in segments such as eyewear and watches, according to e-commerce giant JD. Com.
A growing share of Chinese consumers have purchased imported items when choosing their next cellphones, cosmetics, furniture, food and beverages over the past 12 months, the Beijing-based platform operator wrote in a report released yesterday.
But fewer people were looking for foreign dietary supplements, jewelry, sporting goods, toys, musical instruments, watches and eyewear, as consumers increasingly trust domestic brands in these areas that were previously essential for importers.
In the first three quarters of this year, the top-selling category of imported goods sold on JD.Com was handsets, accounting for more than 30% of total revenue, followed by computers and office devices, maternity and baby care products, makeup and skin care items, and home appliances.
People between the ages of 26 and 45 are the main group of consumers who buy foreign goods on JD.Com. But the fastest growing segment is the 46-55 age group, as these more mature shoppers are increasingly willing to spend money on foreign-made products.
Over the past three years, the value of foreign brand goods sold on the platform totaled CNY500 billion (USD 68.3 billion), surpassing the CNY400 billion target set at the Second International Import Expo of China in 2019.
Nearly 100 countries have launched their national pavilions on JD.Com's platform, and products cover categories such as food, liquor, electronics, mother and baby care products, as well as personal and health care.
Editor: Emmi Laine, Xiao Yi